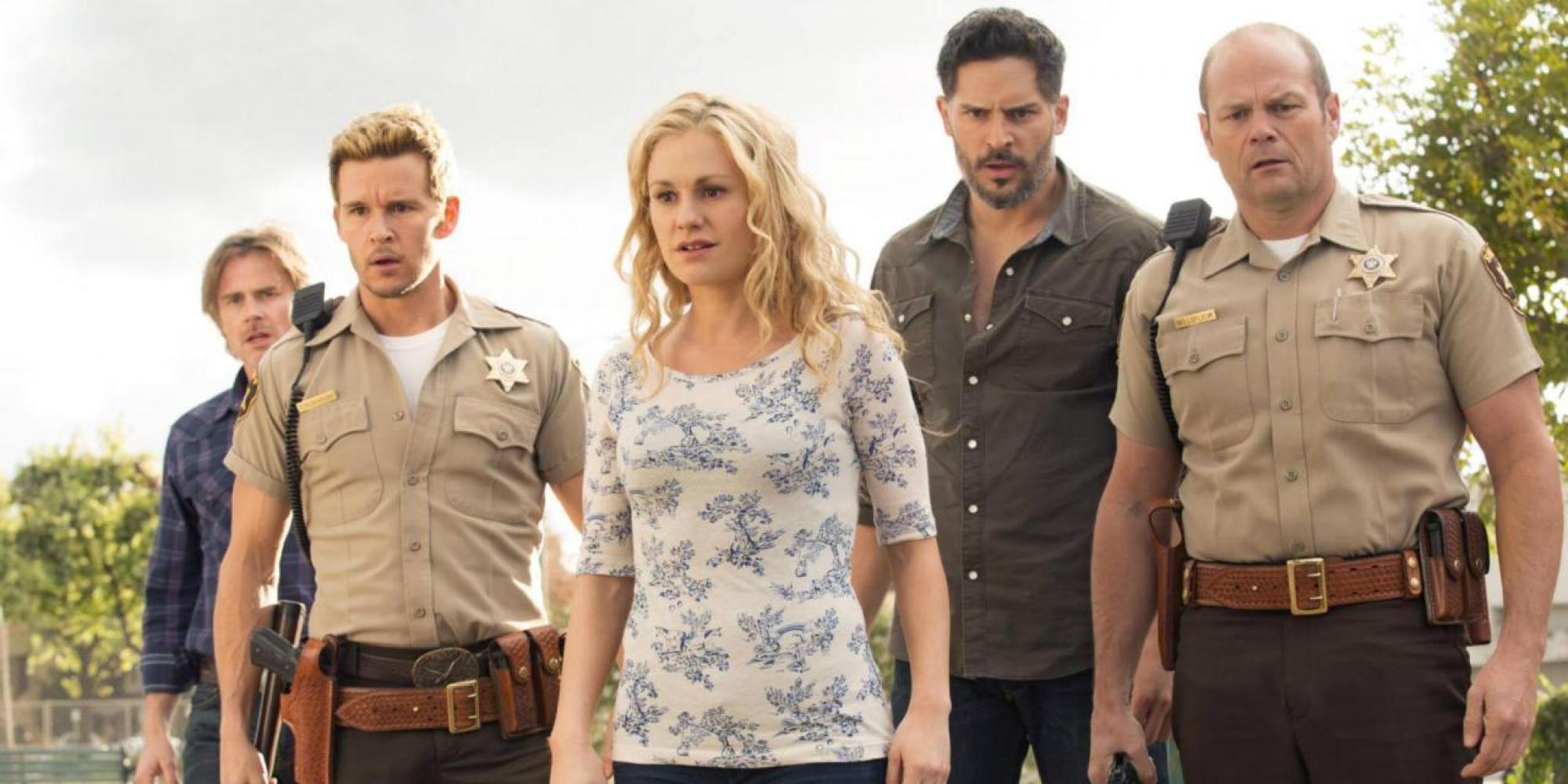 It's the beginning of the end as our beloved HBO vampire series draws to a close.
When we last left off, the people of Bon Temps had agreed to the "one vampire to every human" plan, put in motion by the new mayor, Sam Merlotte (Sam Trammell). The plan provides protection for the humans from the H-Vamps (infected vampires), and in return a steady meal for the vampires. Citizens gathered at the human-vampire mixer held outside of the Bellefleur's, and just when it seemed like a trust was made between the two species, a group of rogue H-Vamps crashed the party.

Directed by series star Stephen Moyer, the season 7 premiere picks up right in the middle of a chaotic blood bath. A slew of humans and vampires are brutally murdered within the first two minutes of the episode. And be prepared for an unexpected death that sets the tone for the final season. As we saw last year, our beloved Terry Bellefleur (Todd Lowe) was the first main character who passed. After the season opener, we're reminded that anything can happen and anyone can die.
The season starts off with a battle between the Bon Temps and H-Vamps. New friends and relationships have been made. Sookie (Anna Paquin) is now with Alcide (Joe Manganiello), a safe choice for the girl that every vampire wants, but it doesn't look like all of her feelings for Bill (Moyer) have quite faded away. Jason (Ryan Kwanten) belongs to Violet (Karolina Wydra), a domineering vampire who saved him from being feed on by hundreds of blood thirsty female vamps. Jessica (Deborah Ann Woll) is in a surprisingly healthy relationship with new hottie vampire, James (Nathan Parsons). If you're wondering why something seems different about Jess' brooding beau she met while being captured last season, it's because he is a totally different actor. Due to his recent casting in the anticipated 50 Shades of Grey film, Luke Grimes has been "subtly" replaced by Nathan Parsons.
The search for Eric (Alexander Skarsgard) continues. Did he get burned to a crisp, or is he just hiding out? All we know is Pamela (Kristin Bauer Van Straten) won't quit until she knows what happened to her maker.
It is set up to be an exciting final season, and an unpredictable one at that. Let's just hope the series finale serves a pleasurable bite that leaves us with a satisfying after taste for the months following.
True Blood returns on June 22.
Latest posts by Susan Kamyab
(see all)