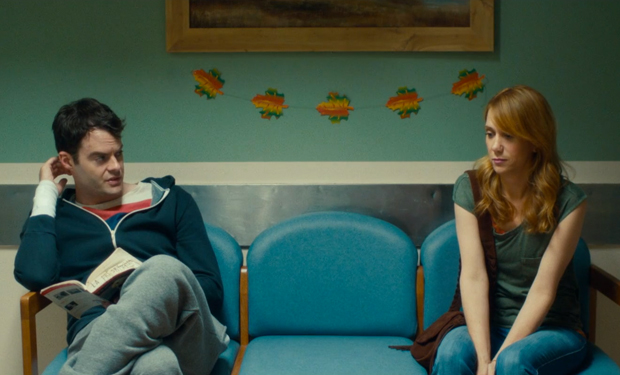 Girl Most Likely was a disappointing, failed attempt at the indie genre for Kristen Wiig. So much so, that my standards were kept low when walking into The Skeleton Twins. But, once again, Wiig's unsurprising chemistry with another SNL alum creates an on-screen bond that immediately pulls you into their story.
The Skeleton Twins (directed by Craig Johnson, and written by Johnson and Mark Heyman) solely focuses on its two title characters. Bill Hader channels his inner "Stefon" as Milo, the snarky, gay, depressed out-of-work LA actor. He opens the film with an attempted suicide that reunites him and his twin sister Maggie (Wiig), who he hasn't seen in 10 years. Like her brother, Maggie is also unhappy, but hides her depression behind her marriage to a happy-go-lucky, Luke Wilson, to whom she has had trouble staying faithful. Maggie insists Milo stay with them until she knows he is okay. Milo agrees to come back to New York to live with Maggie for a little bit. At this point, the two of them attempt to revisit their past, try to make adjustments to their disturbed selves, and finally realize how important it is for their well-being to have each other in their lives.
What really makes the thematic material in The Skeleton Twins so grasping is that it has such an understanding on a siblings' connection. Throughout the film it's referenced that the two had a rough upbringing, which has forced them to rely on one another since childhood. Even though Maggie and Milo are miserable with their lives, their presence together is a silver lining. The two not only share a bond, but also understand each other completely. They make jokes, get high, and even have one of the best scenes this year, a sing-a-long to Starship's "Nothing Gonna Stop Us Now."
The Skeleton Twins' grim tone throughout the film is balanced with its uplifting message of how sometimes the person in your life who completes you can make you realize why life is worth living. There is also enough comic relief through Wiig and Hader's hilarious, witty banter for you to continuously have a laugh. Watching these two on-screen together is a rare treat no one should miss.
The Skeleton Twins opens in select theaters September 19.
Latest posts by Susan Kamyab
(see all)