If you are a fan of the old school Bond flicks of yesteryear and have a stomach for ridiculously over the top violence then 'Kingsman: The Secret Service' is the Valentine's Day movie for you. Every year on Valentine's we get an alternative to the typical romantic flick men are dragged to by their significant other. Usually the movie we get is a PG:13 adventure flick for teenagers, but this year Hollywood is going full R rated for its holiday flicks. You may have thought 'Fifty Shades of Grey' was the only dirty flick to see this weekend. Well, you are wrong.
Director Matthew Vaughn (Kick-Ass, X-Men: First Class) has cleverly devised a way to bring the silly and classy style of the 1960's Bond movies together with a modern flair of insane violence. Apparently not content with the direction modern day Bond films have headed, Vaughn has decided to go older and younger with his Bond characters. The older version of Bond in this movie is a wonderful character named Harry and he is so brilliantly portrayed by Colin Firth that you'll wish he had played the real Bond instead of Timothy Dalton or Roger Moore.
Harry represents the half of 'Kingsman' that's very nostalgic for a time long past. He is stylish and in control. He is a bad ass, but always with his seat nicely pressed. He is the quintessential representation of what a British secret agent has always been imagined. As a matter of fact, that is the entire nature of what a Kingsman agent is to begin with. At one point in the film, Harry uses the phrase "manners maketh man". In other words, a presentable, respectable, and proper gentlemen is the only real man.
That's not exactly the way I would describe the films younger Bond when the audience first meets him. The young mans name is Eggsy and he is played by a future star by the name of Taron Egerton. I guess that's the perfect name for an actor who's playing a guy named Eggsy. You see, Eggsy starts off as a bit of a punk ass street kid, but don't let that fool you. He has it in him to become the debonair Sean Connery that Firth has down pat. All he needs is a bit of a push and the most dangerous job interview in the world. Which is exactly what he gets.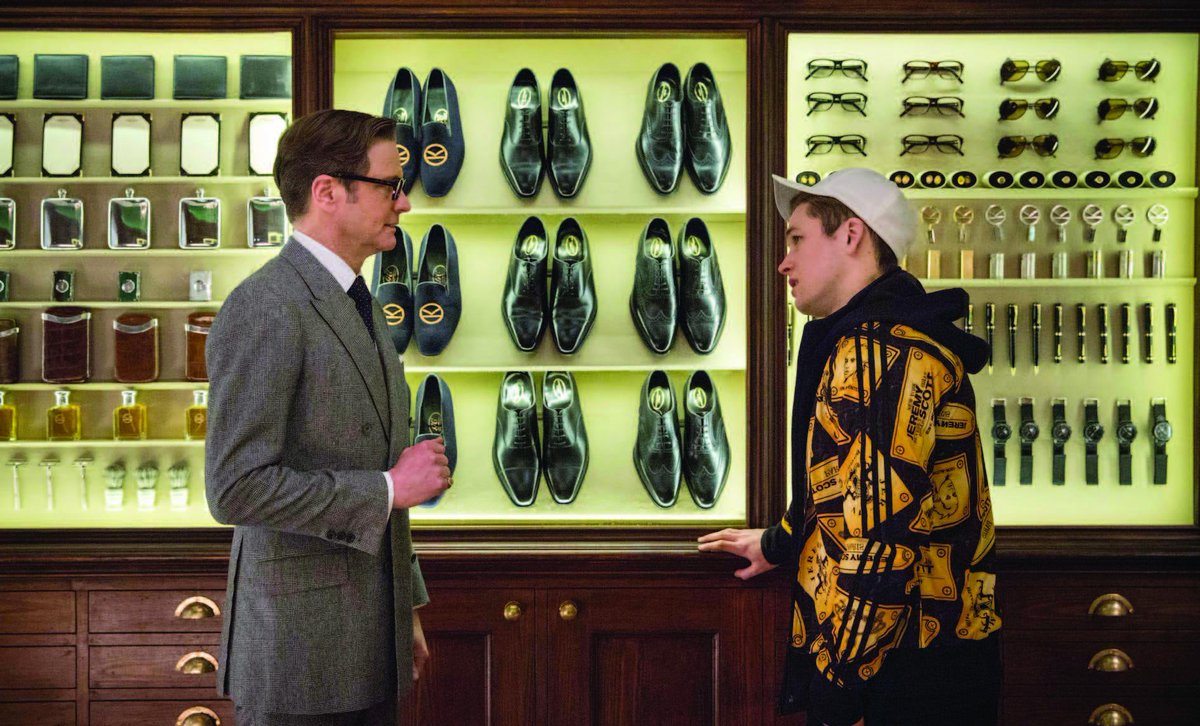 'Kingsman' works it's magic on two fronts. On the one hand is a game of wits between a brilliant villain named Valentine (played by a truly outstanding Samuel L. Jackson) and the aforementioned Harry Hart or Agent Galahad (all agents have Knights of the Round Table names). The other half is a competition between Eggsy and a dozen other candidates for the latest opening on the Kingsman team of secret agents. Both sides are fun and both sides will keep audiences entertained throughout the movies exciting two hour and eight minute running time.
As much as I enjoyed the film, it is not free from issues. Most of them are small and not really worth discussing, but there is one issue I can't completely ignore. On several occasions in the movie it breaks out into pretty vicious violence that is partially played for laughs. One part is a mass slaughtering of a church of people and the other is on a much grander scale. The problem with these sequences is that they try to play for comedy while also shocking us. These are regular people being viciously slaughtered. It's kinda fucked up to laugh about it.
Still, the sequence in the church is so brilliantly choreographed that it's almost impossible to keep a grudge against it and most of the ending is such a blast that you can turn a blind eye to its insensitivity. Is the story ridiculous nonsense? Yes. Is it remotely plausible? Hell no! Who cares! The real Bond movies have gone the way of Christopher Nolan and managed to feel palpable. That doesn't mean that something else can't come along and fill the void left by the old silly 007 flicks. So, don't bother with whips and chains this weekend. Go for a shoe sword and a poisoned pen instead. You will have a better time.
Latest posts by Nathan Ligon
(see all)